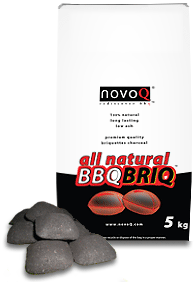 novoQ®
All Natural BBQBRIQ™
an essential for an exceptional bbq..

Truly all natural, novoQ® All Natural BBQBRIQ™ briquettes charcoal are made from premium natural wood Charcoal and a natural food-grade vegetable starch binder. These Charcoal Briquettes contain no chemical or fillers such as anthracite, clay etc so they burn cleaner! Use it for an exceptional BBQ experience with your family and friends!



All Natural Charcoal Briquette


Long Lasting


Less Ash


Even, High heat


Good-Sized Charcoal


Consistent & Exceptional Grilling Performance



Available in a variety of packaging and size.